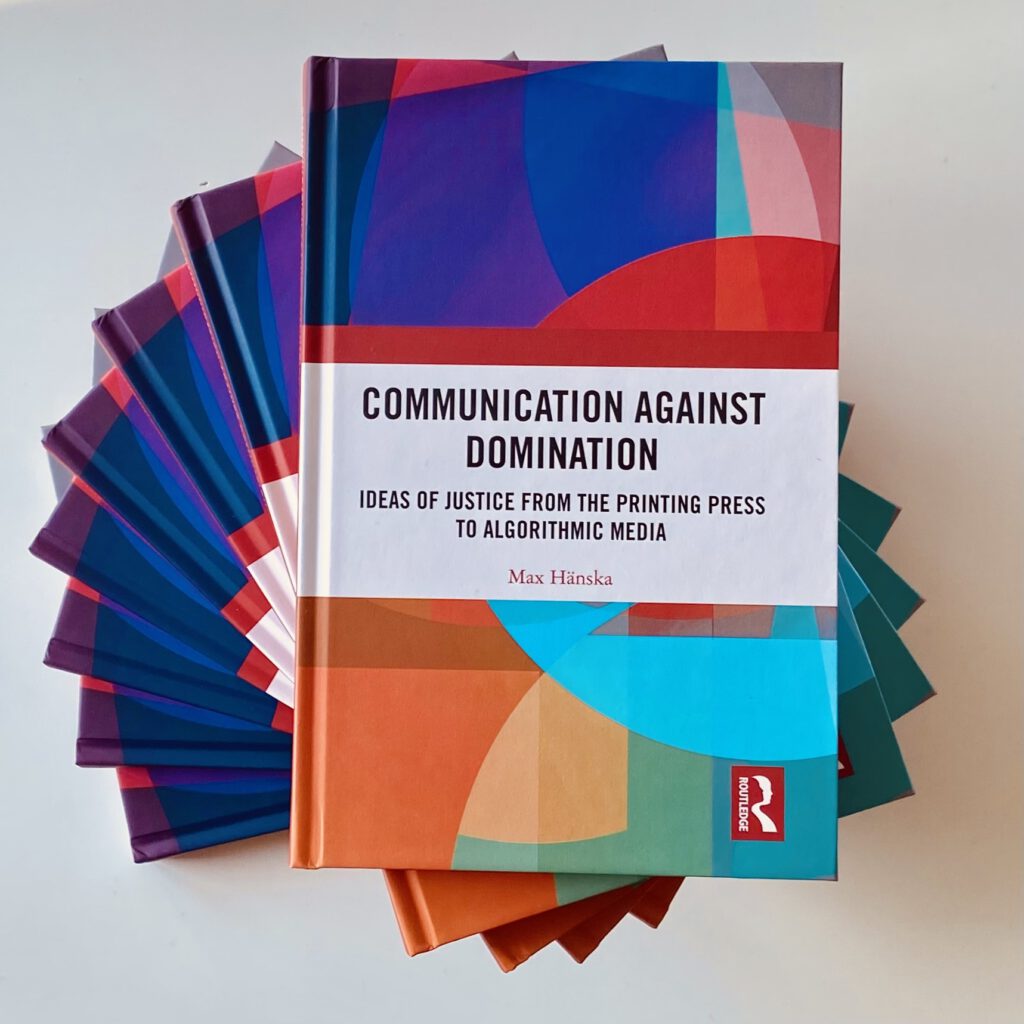 What do we owe each other in communication? What kind of communications system and rights do we want? Which uses of information technology are morally wrong, and which should we encourage? My recently published book on information technology and the good society navigates the gap between our practices and the things we actually do with communication and information technology, and the broader societal values that we want to (and should) pursue. 
The book asks how we can become clear on our values and purpose, and what we can do to ensure the technologies we create remain aligned with the ideals we support.
I've tweeteted some summaries here.
You can find it on Amazon, Routledge, or Google Books.
Preview
Praise for Communication Against Domination
"Max Hänska has written a splendid book on an important and timely topic. The book provides a comprehensive study of normative aspects of communication and most valuable guidance for the systematic analyses of normative claims in communication theory. It is conceptually compelling, rich in examples and highly original in the analyses of the impact of communication technologies on social relationships, politics and culture."
Mats Ekström, Professor of Media and Communication, University of Gothenburg
"In an era in which dependence on information and communication technologies has reached new heights and the dangers they pose to our social fabric and personal well-being are so pronounced, Max Hänska makes an invaluable contribution to the much-needed conversation on the normative choices we face when we put them to use. Communication Against Domination is a thorough, broad, insightful and accessible read designed for both scholars and advanced students. It tackles head-on the moral dilemmas contemporary media technologies bring about and proposes a well-argued theoretical approach to engage with them."
Amit Schejter, Professor of Communication Studies at Ben-Gurion University of the Negev and Co-Director of the Institute for Information Policy at Penn State University
"Communication Against Domination offers a rich framework for analysing the normative underpinnings of communication in contemporary society. It proposes that freedom as non-domination can provide a suitable goal for communication, and for empirical and theoretical communication analysis. In his sharp and thorough reasoning Max Hänska lays out how traditional media, the Internet and Artificial Intelligence challenge and transform the normative foundations of communication. The book is fascinating in its profound understanding of social and communication theory and a must read, particularly for students pursuing empirical communication research."
Barbara Pfetsch, Professor of Communication Studies, Communication Theory and Media Effects, Freie Universität Berlin, and Managing Director, Weizenbaum Institute for the Networked Society – The German Internet Institute